May 14, 2017
Anton's Lake Manitoba Brown Trout
Anton's Lake is another pothole type prairie lake and considered the closest of the so called "Parkland" lakes. It is located 202 kilometers from the western edge of Winnipeg. Located at the junction of highways 10 and 16, this lake had an aerator install and has been stocked with rainbow trout and brown trout for a number of years. This week marked the beginning of the Manitoba general fishing season. I'll never know why but the opener is always on the same weekend as Mother's Day. As I teach all day Saturdays I have a hard time getting out on this particular Sunday. So I went trout fishing (trout lakes are legal all year round) on the Friday before. The wind was a steady 'ill wind'. That is to say an easterly wind. When this happens fishing the shores and points the wind has been hammering doesn't always produce fish they way an predominant NW wind does. What actually happened was the fish were feeding in their normal spots but that driving wind made positioning, casting and stealth, a real challenge!
My opening fly was a weighted muddler. On the bench a brown tailed orange winged muddler with a burnished brown diamond dub body seemed the perfect fit.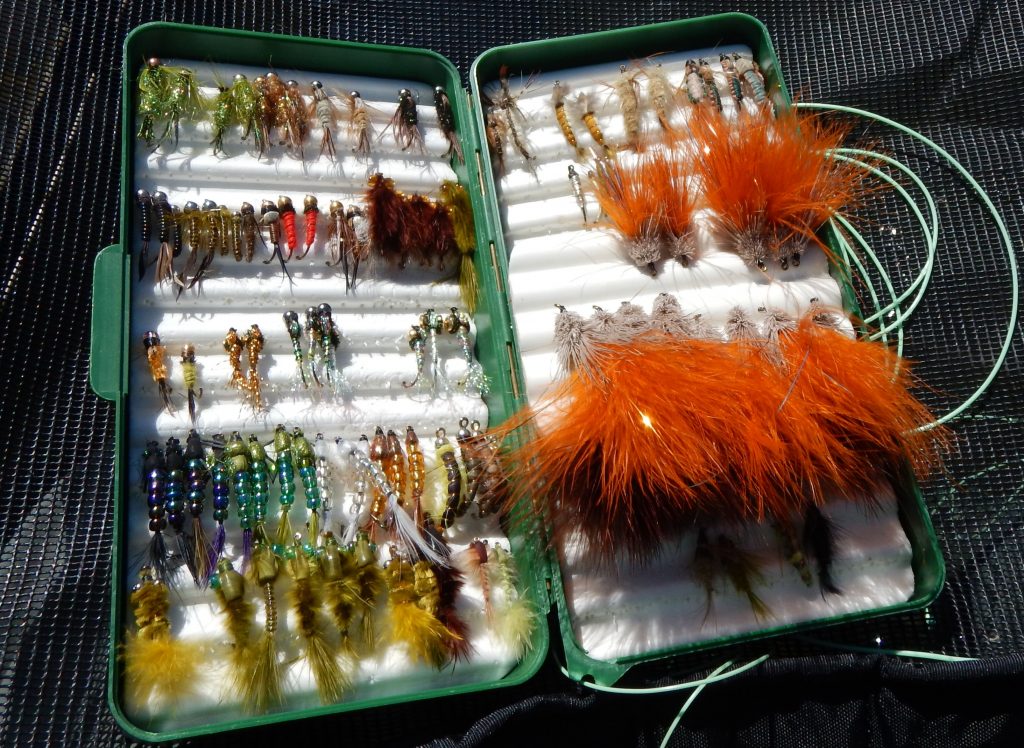 Fished the whole lake with that thing trying to beat its weight AND that wind. My shoulder was a aching.
Now I did see some active fish slashing minnows in the weeds but they did not seem to find this muddler enticing.
What did end up working was a golden flash-a-bou nymph pattern.
Here are the 2 fish I got on that fly.
Afterwards, the the wind died and the BP changed. The active fish stopped showing and nary a hook up to finish my time.
I did risk taking my Nikon D70 and got good bird captures from the boat.