Guiding
Manitoba Fly Fishing Guide fromWinnipeg
Catch A Trophy Fish, Catch A New Fish Species Or BOTH!
Are you in the Winnipeg area as a stop over, business function or family event?
Do you live in the Winnipeg area but maybe you just want to fast track your learning.
Do you want to get on the fish fast?
What we can provide:
Transportation to and from the fishing destinations
Rods
Reels
Line
Leaders
Tippet
Flies
Snacks
Nets
Photographic and Video documentation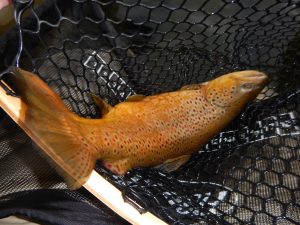 We can pick you up at your hotel or home, drive you to and from our fly fishing destinations and return you safely. Supplying your basic needs as well as netting fish, photos and filming, leaves you free to concentrate on your fishing. We can coach you on presentation or leave you to your own devices. Whatever you need. When you get home, a bevy of fish photographs await you soon followed by a video presentation.
We do not supply waders, boots or rain gear
We can provide a unique guide service for any species.
Species we can target:
Pike
Channel Catfish
Carp
Freshwater Drum
Walleye
Small Mouth Bass
Goldeye/Mooneye
Brook Trout
Rainbow Trout
Brown Trout
Tiger Trout
Lake Trout
What Do You Need?
Well you need a rod reel and line.  If you have none we can provide
Flies: I have many but you can ask us what to tie
Waders and Boots (We do not provide)
Boat (canoe, kayak, float tube, etc. for lake trips only) We do not provide these.
A Manitoba Fishing License. These can only be purchased from sellers during their business hours. This tends to be 10-9 Monday to Friday, 10- 6 Saturday and 11-5 Sundays. There is no practical way to purchase your license online like you can do in MANY other Canadian Provinces and American States
Outerwear to cover anything. We can have a hot spring, a cold summer and rain anytime.
A sense of adventure. You will probably be fishing for a new species, in a new way, in a new location or all of it combined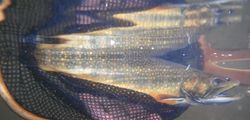 Book Your Manitoba Fly Fishing Adventure