June 15, 2020
The 2020 Fly Fishing Season so Far
One thing that has not been affected by the government shutdowns is fishing. The only exception to this was cancelling our Fairford River trip. People still went but there was no official day to meet up thereby circumventing the gatherings restrictions.
You may ask why I am lumping 4 months of fishing related reports into one post. Well the answer is simple. I was in the process of changing web hosts and any updates I did on the old server, would not make it to the new one.
Fly Fishing Reports for the Months of May and June.
On the opener, as we call it, I elected to stay near home. I work Saturdays and the opener is ALWAYS on the mother's day weekend. I went to Woodhaven Park where Sturgeon Creek runs through and got skunked.
On next weekend I went to a secret location that has been fantastic in the past but is falling on hard times. I keep it secret not to be a jerk, not because the fishing is easy but to stop the dilettantes from ruining it with styro foam, litter, driveway blocking and other activities that would lead to not trespassing signs and such.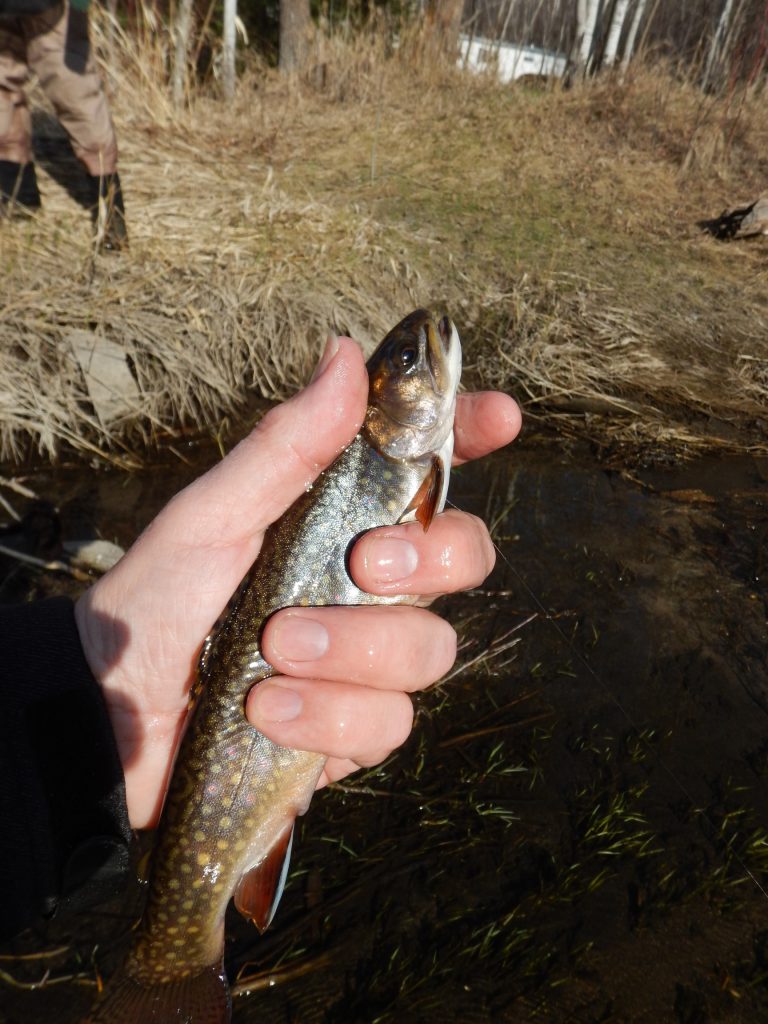 The next weekend I was back to Woodhaven after work.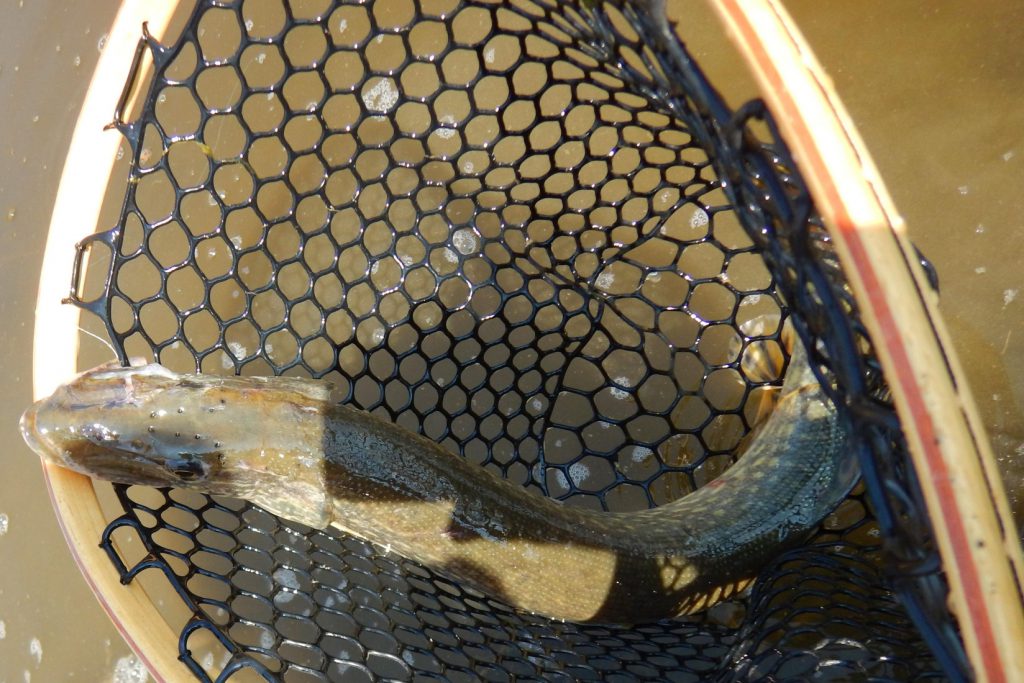 Lot's of active fish, a few hits, but just this one pike.
The next weekend saw hit up Big Creek on the western edge of the North Whiteshell Provincial Park. Pike abound as well as small mouth bass.
It was windy and we had all kinds of weather.
The next week I spent the Friday guiding a fellow around the same area. He didn't do well but he had fun. Each location had fish as I tested the water and found active fish.
Fished twice in the same weekend!
On the Sunday after we went to check out some water coming off the east side of RMNP. Rumour had it some brook trout were stocked in one of the creeks, creeks that had had stockings before.
We found no fish but some fantastic water that could hold fish if the province had the will.
In June we spent the first weekend revisiting a spot I took my client to in May. We did well.
Hunt Lake Rebound
The next weekend had me going solo to the southern Whiteshell. I picked a funny day to go. It was the free park admission and free fishing weekend. To say it was busy was an under statement!
Stopped at Lyon's lake and it was a turbulent mess with the high SE winds. I was committed, equipment wise to lake fishing, so the river was out of the question. The thought about grabbing a bite at the Night Hawk Cafe and just driving home crossed my mind! Glad I didn't.
While parking was at a premium at Hunt lake, it was mostly for the hikers. As I arrived the park patrols were checking barbs on the dock and sending folks home. Educating not fining!
Rigging up quickly, I got to work. My goal this year was to slow all my presentations down in general but on these eastern lakes in particular. I had gotten to used to fishing these lake as they were and as they 'should be' instead of fishing them as they are.
With a sink-tip 4wt as my opening bid I was quickly rewarded!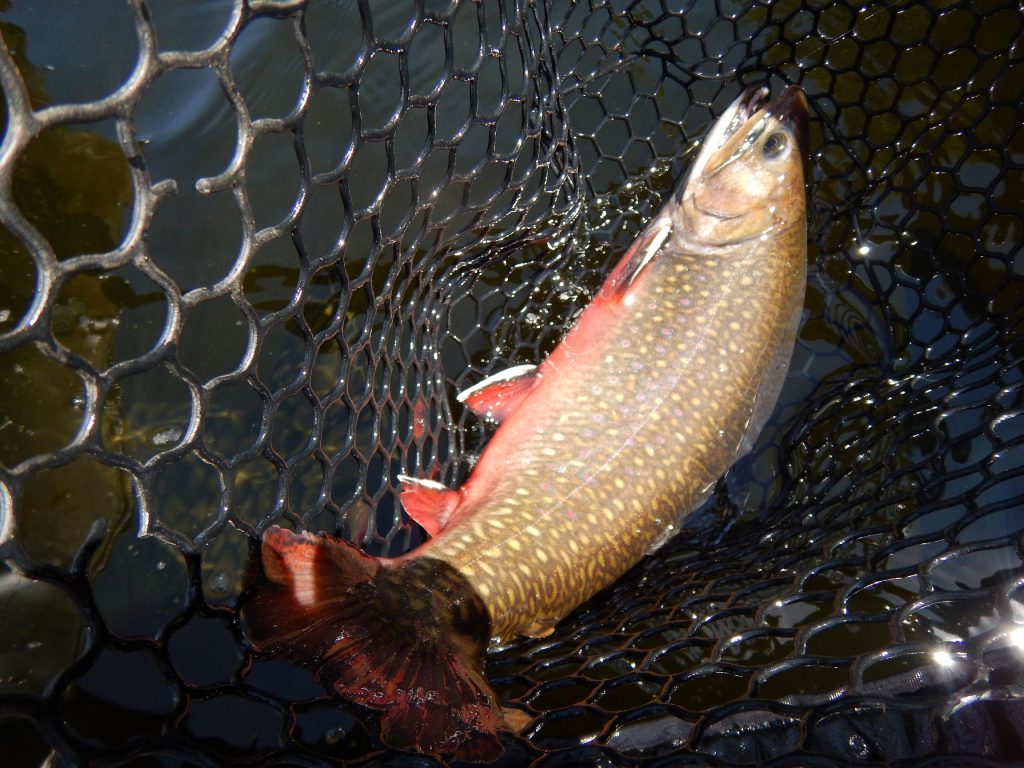 It was slow after that but there was some surface action. The problem was the high winds made most of the lake un-fishable. Normally, even in the worst winds, this little lake is immune. Anyways I caught a more normal sized brookie and perch and the last fish was another good one.
After years of neglect and a blatant favouring of western lakes, it is nice to see this lake produce. Not just for me, but for the dock anglers as well.
The only drag is the drive home had a 50km detour off Highway 1 to get home.